Thesis Statement Creator for Law Students
With this thesis statement creator, your perfect thesis for an essay on law is within a few clicks!
Result for
argumentative
thesis statement
Your written project is almost complete. You've formulated a catchy title and know what to write in conclusion. Still, the final version of the thesis statement is far and vague. You can spend another hour scratching your head. Or, you can try this thesis creator and see what it can do. Spoiler: it can do many useful things!
🎓 Thesis Creator: How to Use It
To get a well-formulated thesis, you should:
Choose the genre of your assignment.
Enter the main idea of the text.
Provide the arguments confirming it.
List the counterarguments.
🙋 What Is a Thesis Statement?
A thesis statement is a sentence that opens the discussion in an argumentative text or introduces the main idea in informative writing. It plays an organizational role, mastering the ideas and arguments in the paper. One can usually find it at the end of the introduction.
A thesis should not be confused with a topic (and some other things – read on to learn more).
A Strong Thesis Statement
What does a strong thesis statement do and why is it useful?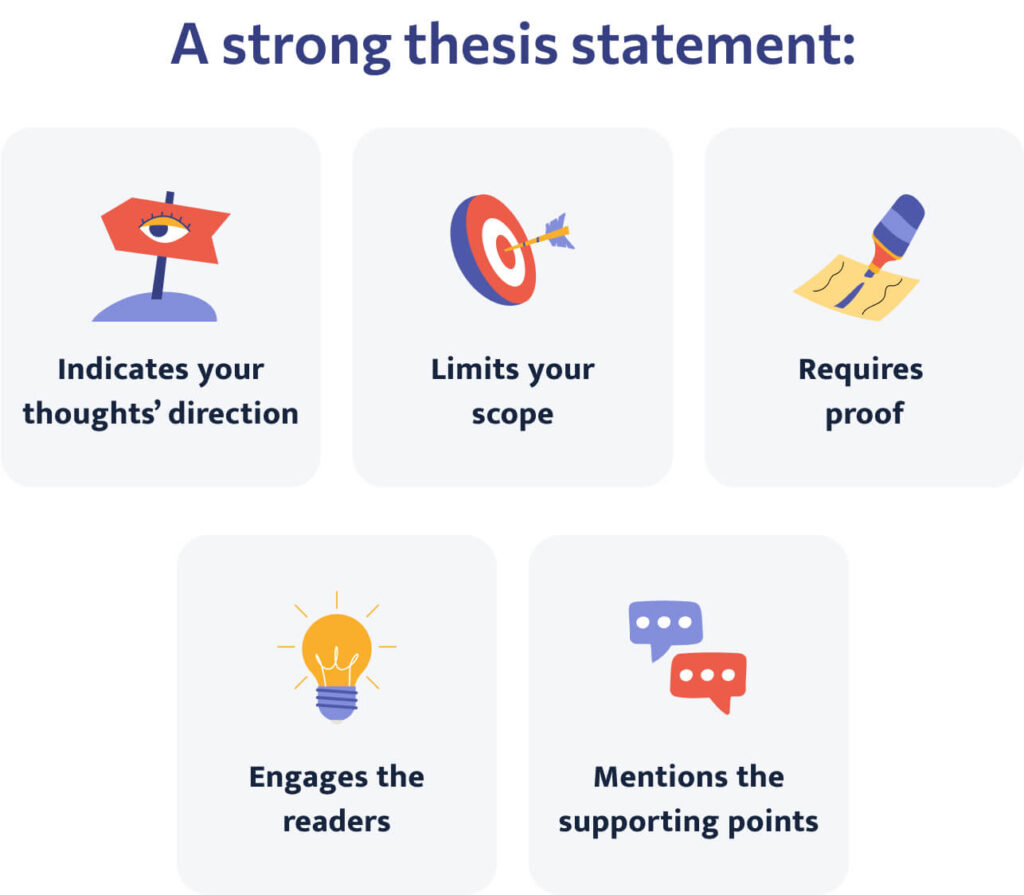 A well-formulated thesis benefits you and your readers because:
It indicates the direction of your thoughts.
It limits the scope of what you discuss.
It requires proof and is not a mere statement of fact.
It engages the readers and motivates them to keep on reading.
It mentions the supporting points that appear in the following paragraphs.
📍 How to Create a Thesis Statement in 5 Steps
There are five steps to create a strong thesis statement for your research paper or essay.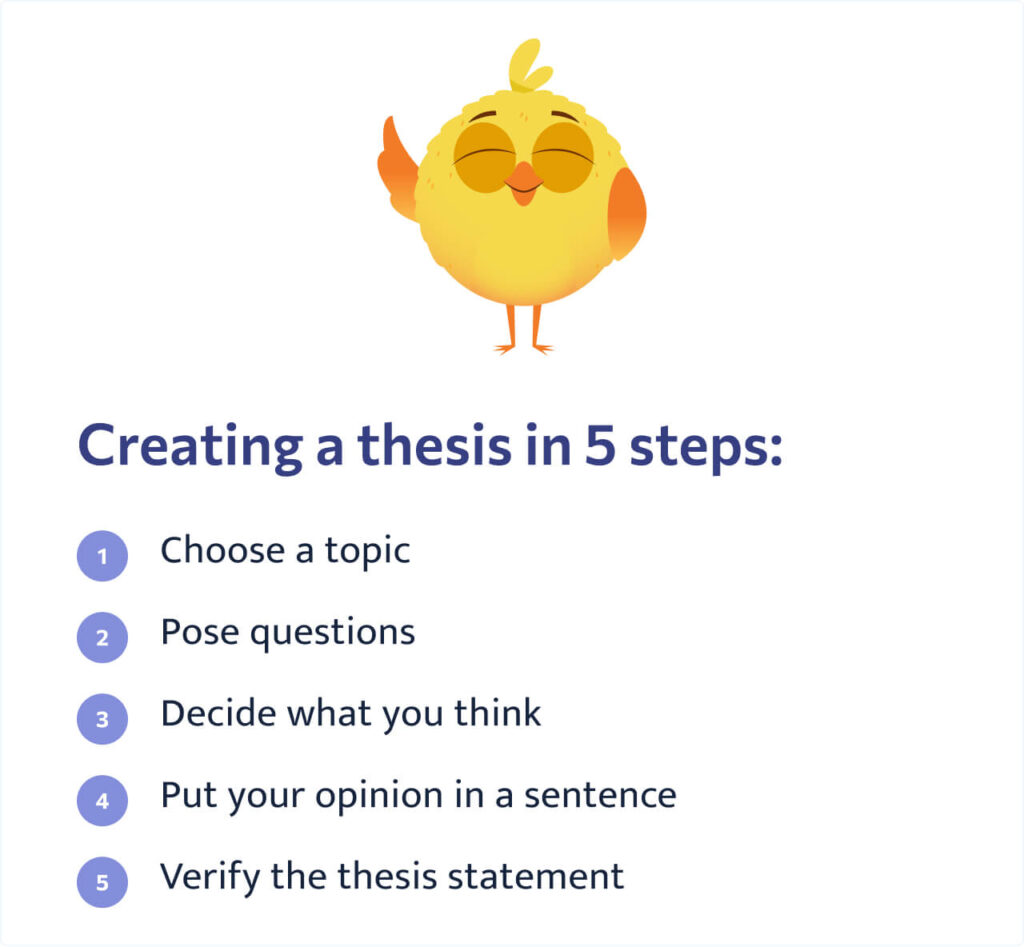 #1 Choose the Topic
When choosing a topic for your assignment, opt for something that:
Falls within your sphere of interests;
Fits into the assignment;
Has accessible previous research;
Can be proved with evidence and facts.
#2 Pose Questions
What do I think about the topic?
Why do I believe that?
For this purpose, use a mind map or freewriting for 10 minutes. Keep asking questions until you have a basis for a well-formed opinion.
#3 Decide What You Think
Look at the result of the previous point. Analyze the opposing thoughts. Some will become the arguments, and others will serve as counterarguments.
#4 Put Your Opinion in a Sentence
This sentence will link your topic (selected at step #1) to your opinion. Ensure it demonstrates your actual perspective, as it will become the thesis statement.
#5 Verify the Thesis Statement
Here you need to ask yourself:
Is the thesis interesting to you and engaging to your potential reader?
Is it specific and well-defined?
Does it make a claim that should be proven further on?
Do you have enough evidence to support your thesis statement?
Alternatively, use the free thesis creator to check if you are right.
🆚 Thesis Vs. Topic Vs. Question Vs. Hypothesis
As mentioned above, a thesis statement plays a structural role in a text. That's why it is inseparable from other organizational elements. Altogether, they form a cohesive and coherent piece of writing.
Look for examples below.
| | | |
| --- | --- | --- |
| What is it? | What does it do? | Example |
| A topic | Outlines the scope of your research. | The use of social media in crimes investigation. |
| A research question | Explains what the purpose for your text is. | How do investigators employ social media while collecting evidence? |
| A hypothesis | Serves as a starting point that requires proof. | The use of social media can accelerate almost any investigation. |
| A thesis statement | Indicates the author's point of view at the beginning of the text: | Social media helps investigators collect personal data, preferences, and close contacts of the suspects, considerably accelerating the investigation. |
Thank you for reading this article!
If you need to polish your assignment even more, consider trying our other online tools for students:
❓ Thesis Creator FAQ
❓ How Do You Create a Thesis Statement?
Select the topic you wish to analyze.
Choose a problem or research gap within that topic.
Formulate a research question your paper will answer.
Transform the research question into a statement of your opinion or intention.
Use a thesis statement creator to verify the result.
❓ How Do You Turn a Sentence into a Thesis Statement?
Although a thesis statement is written based on the topic and paper title, it differs from the two. Still, you can use them as a framework to form a thesis statement by providing your opinion. Mind that you'll have to prove it in the main body.
❓ How Long Is a Thesis Statement?
A thesis statement is one sentence long in most short forms of writing. Long research papers may use two or three sentences if the case requires so. Nevertheless, the best strategy is to make it as brief and informative as possible.
❓ What 3 Things Should a Thesis Statement Have?
A strong thesis statement includes three components: a specific and narrow topic, a claim of the author's opinion, and the reasons explaining such a claim. The most challenging thing is to fit all three items into a single short sentence. Here's a template:
Subject + Opinion + Reasons
🔗 References